Bonin Redevelopment Project
About
Lafayette Utilities System (LUS) plans to build a new power plant at the existing Bonin operations center because of anticipated future loss of electricity from the Rodemacher Power Station Unit 2 (RPS2), near Boyce, Louisiana. The new power plant would provide a local source of electricity for the Lafayette community.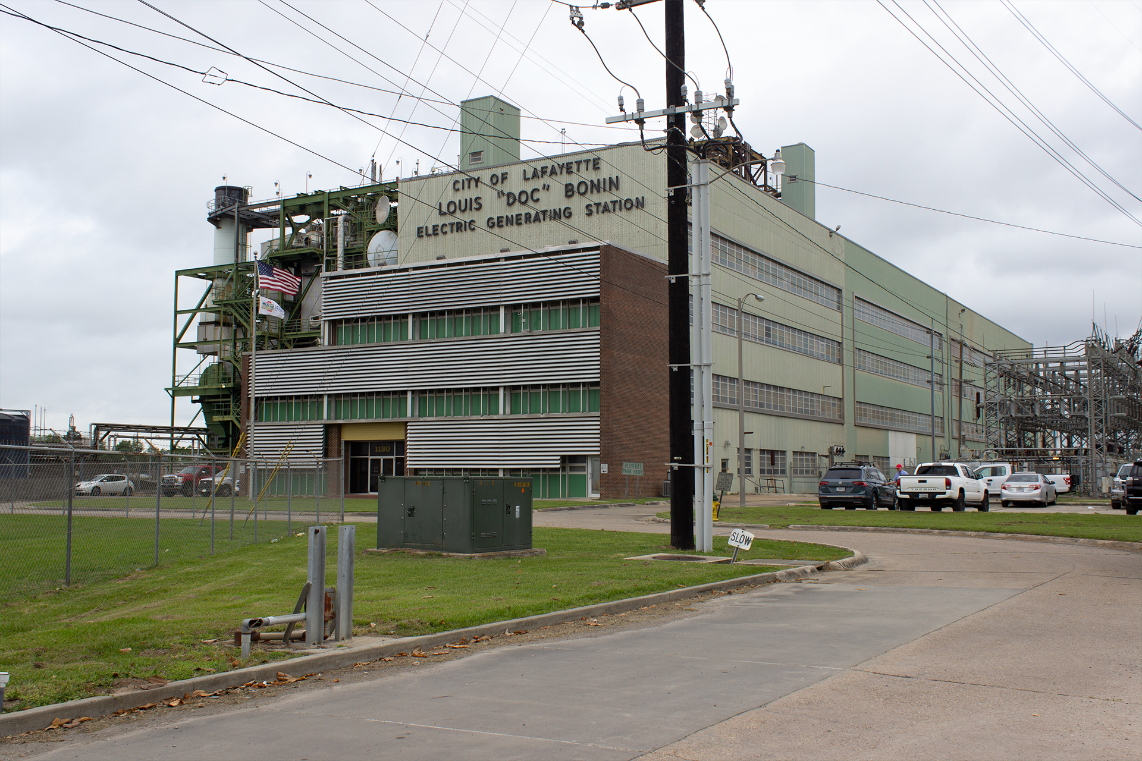 The Louis 'Doc' Bonin Generation Station was built in 1965 to generate electricity for the LUS community. It originally consisted of three natural gas-fired steam turbines and three cooling towers, all of which are no longer in operation. The station, located at 1120 Walker Road, stopped generating electricity in 2013 and is currently used as an operations center for LUS. The utility also owns and operates two other power stations in Lafayette that use natural gas and were built around 2006.

Project Benefits
Reliable
The Bonin site for the Project will supply another local source of energy for the Lafayette community in addition to the two other local power plants currently operating.
The Project provides reliable, dispatchable capacity, which will help support renewable energy sources and power purchase agreements.
The Project will provide LUS with the capability to supply reliable electricity during short-term needs and the flexibility to accommodate future technologies.
Cost Effective
The Federal government's stringent environmental regulations for coal power plants would require ongoing maintenance and repairs of RPS2 to keep it working as a coal-burning plant. A new power plant on the Bonin site would cost less than renovating RPS2 to meet current standards.
The Project will allow LUS to develop a diversified supply of electricity, by both generating electricity at power plants and buying electricity via the open market.
Safe
Natural gas power plants produce less pollution and greenhouse gases than coal power plants, making them a cleaner source of electricity than coal.
The new Bonin plant would include the latest safety technologies and meet all the latest emission standards for a power plant.
Environmentally Friendly
The Project will allow LUS to enter into a solar power purchase agreement to use renewable energy alongside cleaner energy from a natural gas generated baseload.
A sharp decline in carbon dioxide emissions is expected following the 2027 retirement of RPS2, a coal burning generating station. The Bonin site would be redeveloped to house a cleaner, natural gas-fired combustion turbine. This power plant would provide more capacity and electricity for LUS customers during peak periods. LUS also plans to purchase power from other sources to diversify its energy portfolio.
Frequently Asked Questions
How will a new power plant benefit LUS customers?
Louisiana produces about 9% of all the natural gas sold in the United States and is home to about 8% of the nation's natural gas reserves. Using a regional source of energy to provide electricity to LUS customers helps assure safe, reliable, and affordable electric service for everyone in the Lafayette community.
What would happen if we do not build this Project?
As demand for electricity continues to increase, LUS would have to purchase power on the open market to compensate for the loss of locally generated electricity, which the retired RPS2 plant will no longer provide around 2027.  LUS customers could face unpredictable prices for electricity purchased on the open market, and volatile prices would have an impact on utility rates.
Why not update and modernize the current RPS2 generating station?
LUS has determined that building a modern, efficient power plant at the Bonin location will cost less than trying to renovate RPS2 to meet current environmental standards. RPS2 would also require expensive maintenance that far outweighs the cost of building this new facility.
Will the Project be safe for our community?
Yes, natural gas is a safe, clean-burning, and efficient fuel used for heating homes and water, drying clothes, and preparing food.
What measures will you take to ensure this is safe for the Lafayette community?
Stricter regulations require the use of advanced technologies in any new power plant to enhance safety. LUS will meet high safety standards as it builds a modern natural gas generating station.
Will this project increase my rates?
This project is the most affordable of all options available. Utility rates are expected to increase regardless of where the electricity comes from, and LUS must invest to upgrade its current energy system. The project will not reduce customer rates, but it is the best cost alternative.
Who is paying for this project?
LUS is responsible for the financial costs of building this power plant. The new facility will be included in the price of service to our customers.
Will there be an increase in truck traffic or dust in nearby neighborhoods during construction of the new plant?
Construction traffic will access the site from main thoroughfares and are not expected to use neighborhood streets. Standard construction safeguards will be used to limit the amount of dust created during demolition. Dust during construction is not expected to spread beyond LUS property.
What are the health effects of natural gas generation?
Burning natural gas to generate electricity results in fewer emissions of nearly all types of air pollutants, including carbon dioxide (CO2), than burning coal or petroleum products to produce an equal amount of energy. The clean burning properties of natural gas have resulted in increased natural gas use for electricity generation across the United States.
How will this affect the health of people who live or work near this proposed plant?
LUS is committed to protecting the health of its employees, customers, and the community.
Will the proposed plant cause foul odors?
The plant will not produce an odor. Natural gas has no smell, but there will be an odorant added to the natural gas for safety purposes, just like you would find in your everyday household appliance.
Will there be noise from the new power plant?
There will be some operational noise after construction. Operational noise will meet all local, state, and federal noise requirements.