Storm Central
Prepare Early. Prepare Well.
Lafayette Utilities System wants to make sure that everyone is informed and prepared should a hurricane strike our area. LUS employees are prepared to make sure Lafayette's power is restored quickly and ensure the city's water supply remains safe.
If you experience a power outage, please call (337) 291-9200 and for downed power lines or other electrical/water issues, please call (337) 291-5700.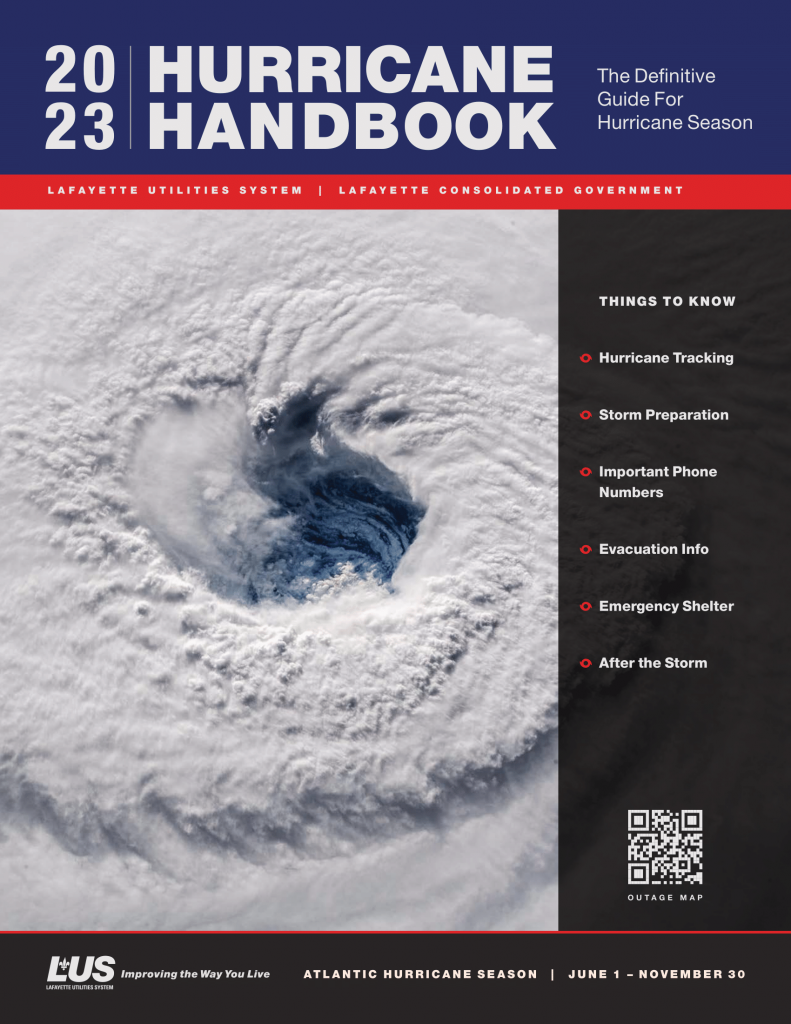 Hurricane Handbook
The 2023 Hurricane Handbook, published by LUS, features in-depth information to help you, your family and your business prepare for hurricane season. Find a directory of important phone numbers, evacuation routes, safety tips and much, much more in this year's edition.
Download a digital copy or pick-up a copy today at your local library or any Lafayette Parish City Halls.
The LUS Hurricane Handbook is available at the following pick-up locations.
Hurricane Survival Kit
Your kit should contain the following seven basic categories:
• Water
• Food
• First Aid Supplies
• Clothing and bedding
• Tools
• Emergency supplies
• Special Needs Items (Medication, medical equipment, etc.)
Download our Hurricane Kit Checklist to be prepared for that next storm or emergency.
Safety Precautions During Storms
• Take special care to install and operate generators correctly.
• Avoid loose or dangling power lines.
• Do not move any downed power lines.
• Do not drive your vehicle over downed power lines.
• If you see electrical system damage broken or frayed wires in your home, turn off the electricity at the main fuse box.
• Do not step into water to get to your fuse box.
• Check for wastewater or water line damage.
Restoration After the Storm Passes
After the storm threat passes and winds have dropped below 39 mph, our crews can start deploying throughout the city. Restoration begins with our generating plants and transmission lines, then to the substations and main line repairs that entails electric circuits, water and sewer systems that serve critical facilities such as hospitals, police, and fire stations. It is our goal to restore services to the greatest number of customers as possible and once the large impact areas have been restored then LUS can restore power to those in small areas or individuals still without power.
To learn more about the restoration, check out Power Outage Restoration from our Hurricane Handbook.