Rain Barrel Program 2023
The Rain Barrel Program is a collaboration between Lafayette Utilities System and LCG's Environmental Quality Division. Rain barrels promote outdoor water conservation and sustainable stormwater management of the Bayou Vermilion Watershed. Rain barrels are available for order during the promotion period with residents of the City of Lafayette or unincorporated regions of Lafayette Parish having the availability of buying one barrel at a reduced, subsidized price.
2023 Program Dates
We have sold out of rain barrels for the 2023 rain barrel program.
Distribution day is Saturday, May 13, 2023.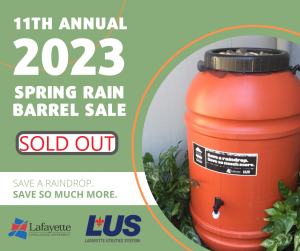 The Great American Rain Barrels are recycled food-grade barrels with:
• Removable Screw-Top with a drilled hole in the center for the rain to enter.
• Mesh Screen to keep out debris and mosquitoes.
• Overflow Valve to redirect overflow water or attach barrels for greater water collection.
• Spigot for access and control of the rainwater.
Frequently Asked Questions
What is a Rain Barrel?
A rain barrel is a container used to collect and store rainwater from rooftops at either the downspout or the lowest pitch area of a roof. The water can be used later on your lawn, garden or for other outdoor purposes.
Why use Rain Barrels?
• Saves money on water bills
Rain barrels can reduce your outdoor water use by using rainwater rather than tap water lowering your water consumption.
• Improves water quality of the Bayou Vermilion
Rain barrels reduce the amount of stormwater runoff and surface water pollutants that enter our watershed.
• Provides optimal water for plants
Rainwater is naturally soft water and devoid of chlorine and other chemicals found in tap water.
Is a Rain Barrel Right for Me?
A rain barrel can be a wonderful addition to your yard and a useful tool for your outdoor watering needs. A rain barrel is right for you if:
• You use a garden hose, soaker hose or watering can for your outdoor watering needs.
• You water at least once a week.
• The rain barrel can be placed in a location that slopes away from your house and neighboring properties.
• The area surrounding the rain barrel is a previous surface to soak up overflow water.
What is the Program Eligibility?
There is a limited supply of 300 rain barrels available for the subsidized price of $50.00.
In order to receive a discount, the following criteria must be met:
• Resident of the City of Lafayette or within the unincorporated area of Lafayette Parish
• One discount per household allowed
How do I Order?
Orders and payments are accepted with a debit or credit card. 
Before any purchase will be accepted, the LUS/LCG terms and conditions must be agreed upon. Click here to print and view the LUS/LCG disclaimer.
Where do I pick up my Rain Barrel?
2023 Pickup day and time – May 13, 2023 from 8:30 am to 12 pm
The Dean Domingues Compost Facility
400 Dugas Road (off of N. University between Pont De Mouton and Gloria Switch Road)
Lafayette, LA 70507
If you are unable to pick up your rain barrel during the, please send an email request to rainbarrel@lus.org to schedule another pickup time.
What size and material are the rain barrels?
Capacity: 55 gallons
Diameter: Approx: 24 inches
Height: Approx: 39 inches
Material: Repurposed Polyethylene (plastic based)
Color: Terra cotta
Are there any rain barrel accessories?
Questions?
Call 337-291-8194 or e-mail: rainbarrel@lus.org
Subscribe to our email list to receive updates regarding the Rain Barrel Program!